The economics of lighting upgrades have long been tied only to energy savings, but this is a short-term view of a long-term investment.
As Krystal Maxwell of Navigant Research explains, creating an ideal work environment for employees is dependent on their comfort levels. This is driving business and building owners to consider new options when investing in lighting upgrades. The graph below shows that human-centric lighting increases employee quality of life. This growth in wellbeing in turn boosts productivity. These quality of life increases give lighting retrofits and upgrades an added economic benefit that is lost in many payback and return on investment (ROI) calculations.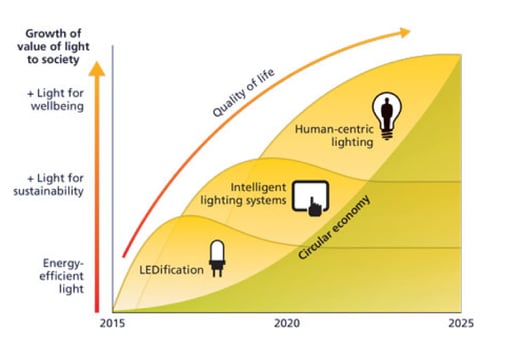 Graph from: LEDs Magazine/Lighting Europe
Human-centric lighting uses multifeatured controls, combining occupancy sensors with a photosensor that provides dimming depending on natural light. Greenbiz.com has found that using these 2 sensors in conjunction can help regulate natural circadian rhythms which will improve human:
Health

Wellbeing

Productivity

Performance
Instead of just decreasing costs as other lighting improvements do, human-centric lighting solutions can also help to boost revenue through the increase in employee productivity.
Increases in productivity can now be quantified according to a 2013 World Green Building Council report. The report took into account a multitude of case studies and concluded that better lighting, like human-centric lighting, increases productivity by a staggering 23 percent. Extrapolating on an algorithm created by real estate investment management company JLL, a modest 2% increase in productivity leads to a savings of over $2 per square foot annually for a company with a total annual cost of occupancy of $10 million. So better lighting leads to more productive employees which in turn can lead to immense savings and revenue boosts for business and building owners.
Read the case study - simuwatt Provides Investment Decisions to a Small Business Owner to learn more about the path to lighting retrofits.