simuwatt is proud to welcome Alan White to its Board of Directors. Alan will bring his domain knowledge and expertise to a Board of Directors that also includes Oliver Davis, Rawleigh Ralls, and Bryn Fosburgh.
Alan White has held executive positions in business development, product development, operations, and corporate finance for technology companies developing energy, industrial, simulation, and supply-chain solutions.
He most recently headed the Global and OEM Business for ENEL-X's eMobility division, where he drove revenue and product partnerships for automotive, utility, retail, and energy customers worldwide. Mr. White was the Chief Business Officer for the EV charging infrastructure company eMotorWerks, where he established its enterprise solutions business.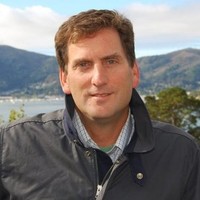 Alan began his high-tech career at Silicon Graphics at the outset of the graphics and Internet business, directing its discrete and process manufacturing businesses. Mr. White then co-founded SupplyBase, which developed engineering-sourcing solutions and was acquired by i2 Technologies.
Alan joined Autodesk as Director of Corporate Development and Partnerships within the Office of the CTO. He subsequently established Daintree Networks lighting controls business (acquired by GE) and has invested in Energy, Mobility, Manufacturing, and Autonomous/Geo-spatial start-ups.
Alan holds a BS in Applied Mathematics & Economics from Union College, an MS in Operations from the MIT Sloan School, and is an Advisor at the UC Berkeley SkyDeck Fund. He lives with his family in Marin County.
simuwatt reduces building energy expenses through its patented energy management software platform - buildee®. buildee enables portfolio owners, utilities, cities, and service providers to identify, prioritize, and realize energy efficiency investments through the building lifecycle.
buildee is a cloud-based and mobile software platform that combines credible engineering intelligence with stakeholder collaboration tools to act on cost-effective retrofit investments and track performance. Through streamlined data collection, instant analytics, and auto-generated reporting, buildee enables owners to make informed decisions to reduce costs, improve value, and be stewards for environmental change.