Compliance, Sustainability Initiatives: Improve ROI
Companies may have been hearing about the need to comply with local energy use ordinances and mandates and about how compliance could be a painful, expensive process. These regulations are nothing to fear and will actually produce myriad ancillary benefits for your company and building portfolio.
The number of jurisdictions with compliance programs is growing every year and now stands at 44 municipalities with multiple states also implementing statewide programs. These programs are increasing as there is added pressure from cities formulating carbon reduction action plans that are subsequently influencing building codes and compliance mandates.
Compliance programs began with benchmarking mandates in order for building owners to understand where their building stacks up in terms of energy use against other buildings in their area and of a similar use type. Benchmarking mandates have been successful and generally produce 2-3% annual energy savings. These programs are also a prerequisite for more actionable energy use mandates like required energy audits, required energy actions, and building performance mandates, as the benchmarking program provides tangible data that can be used to produce a baseline to judge
other programs against. Data gathered from benchmarking policies is essential for the design, creation, and implementation of further programs.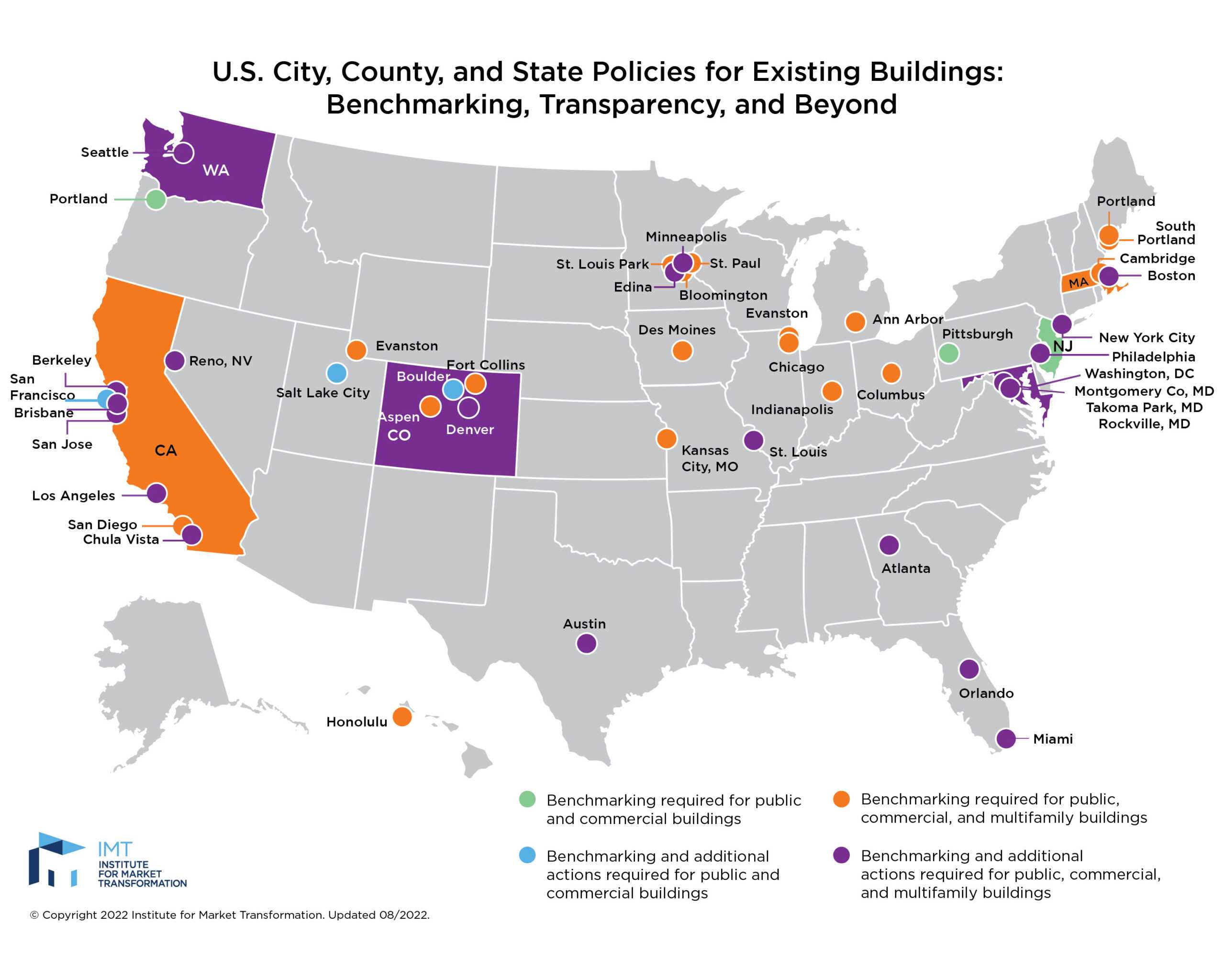 Many of these programs come with carrots and sticks in terms of compliance. The carrots come
in the form of local, state, federal, and utility incentives and subsidies for investing in your building.
These subsidies make the business case for investing in your building more clear and usually increase the return on investment (ROI) of retrofit projects while shortening the payback period. The sticks usually come in the form of fines for non-compliance. These fines can be significant with some buildings in jurisdictions becoming liable for fines in the hundreds of thousands or even millions of dollars. We highly recommend taking advantage of the available subsidies and investing in your buildings, rather than paying a fine. Paying a fine will only result in the improvement of other buildings in your jurisdiction and prevent capturing the ancillary financial benefits of compliance.
What are those financial benefits?
Tangible Benefits: Research from one of the country's largest Utilities shows that energy upgrades
can cut business energy bills by 25% to 50%, which equals a significant ROI. In one example, a hotel spent about $184,000 for energy-efficiency improvements to its building, and now saves about $58,000 a year in utility costs – resulting in a 3.2-year payback period. With 30% of commercial building energy being wasted, there is likely significant savings to be found in your building(s).
According to Energy Star, energy efficient buildings rent for an average premium of 2%-6%, and can sell for a premium of as much as 16%. The Urban Policy Institute at the Cal-Berkeley found that "on average, a dollar of energy savings yields 18.32 dollars in increased market value", or to put another way "the transaction premiums for green buildings are 15.8 to 16.8 percent higher than for nonrated buildings."
Intangible Benefits: Research from the US Green Building Council describes some of the less tangible benefits of sustainability that include employee satisfaction, increased productivity, and better
indoor air quality, which increases the health of workers and reduces sick days.
There are multiple pathways to compliance and increased sustainability that can be taken to capture
benefits. If your business does not have in-house expertise, consider hiring a vendor to complete an
energy audit of buildings or work with an energy services company to consult on portfolio-wide sustainability strategies. Research has shown that following an energy audit, companies can reduce their energy consumption on average between 2% and 15% and reduce their energy bills by up to 30%.
There are also software solutions available that can guide and support the sustainability process. Software platforms, like buildee, rapidly aggregate the data needed in order to identify and prioritize energy conservation strategies within a building and assist decision making on what projects to implement that will help you comply with local mandates and reduce your carbon emissions and operating expenses.
Compliance with energy use mandates and internal sustainability initiatives has been found to produce a significant ROI and increase net operating income, while reducing energy spend, and enabling your company to improve the sustainability of a building portfolio and address shifting tenant desires for healthier and more sustainable buildings.
This article was contributed to the Colorado Real Estate Journal by buildee and was featured in the January 2023 Edition.