The top energy reporting product on the market has become even more powerful!
buildee Reports instantly generates reports for a single building or your entire building portfolio with the click of a button. Auto-generated reports are customized and branded while having a graphically presentation through a Tableau integration and over 30 chart and graph types.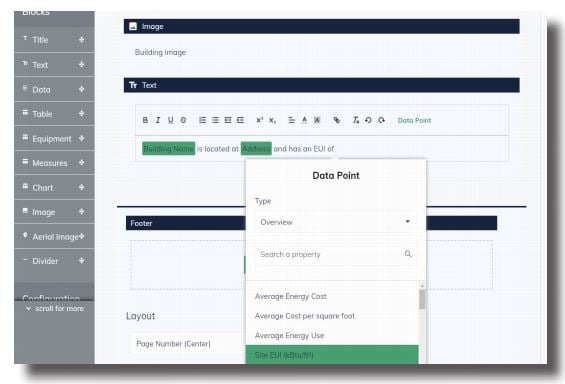 buildee Reports provides flexibility and the most time savings in report creation, generation, and distribution. Data is instantly persisted to a format with calculations, tables, and graphs, saving you time and providing a report to your customer while energy is top of mind.
Completely automate your reporting with:
Integrated benchmark, assets, measures, & performance data

30 different chart types to visualize data in a digestible way

Integrations with compliance reporting tools like Energy Star Portfolio Manager and DOE Audit Template

Pre-built style guides and personalized branding

Integration with buildee Library of equipment products, incentives, energy conservation measures, and calculations

Table customizations

Connections with other actionable products like DocuSign
buildee Reports provides flexibility, enabling you to instantly generate any type of report, including:
ESG & internal sustainability reports

Utility program reports

Benchmarking & building performance reports

Proposals, scope of work, bill of materials

Compliance reports
buildee Reports has been proven to provide up to 90% times savings in report creation, generation and distribution. Reach out to learn more about how buildee Reports will save you time and money.