buildee CEO and Co-Founder Oliver Davis will be virtually presenting at the Association of Energy Service Professionals (AESP) Conference on January 28th. The Conference theme is Charging Forward in 2021 and will take place from January 25th through January 28th.
AESP 2021 will provide exciting content on current best practices in program implementation, evaluation, technology and marketing. More importantly, current events have brought key topics to the forefront; so organizers are looking forward to having the necessary conversations about increasing energy equity, diversity, electrification and decarbonization.

The 2021 AESP virtual conference will include some unique networking opportunities such as live networking rooms, Zen activities to chill out, activities to keep the young ones busy while attendees learn, virtual happy hours, and more engagement opportunities! As this is a virtual conference, it is difficult to gauge the number of attendees, but organizers anticipate roughly 800 – 900 utility energy professionals as well as consultants and manufacturers to attend. Register for AESP 2021 here.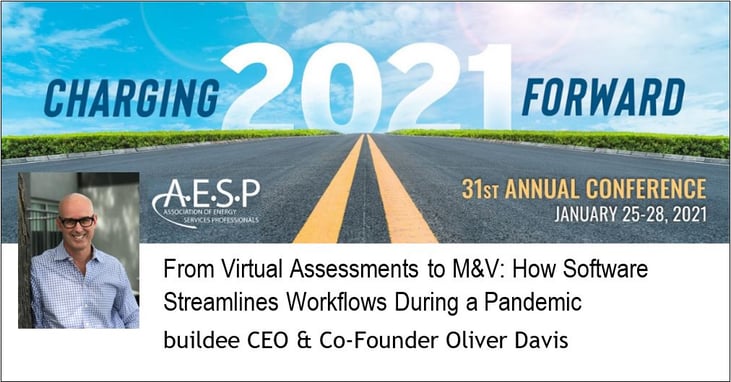 Oliver will be presenting during the session titled "Reshaping Customer Engagement Technologies in a Remote Environment" at 1130AM (ET) on Thursday 1/28. Oliver will be presenting on how software streamlines workflows during a pandemic. A short description of the presentation is below:
With access to buildings limited, customer engagement and on‐site activities have proved difficult. This has constrained onsite energy audits that provide guidance to building owners by identifying energy and money savings and reduce the environmental impact of their buildings. As a result there is increased need for new solutions that can provide tools to stakeholders to engage with customers and perform building analysis virtually and/or remotely. Learn about the replicable strategies and best practices utilities, implementers, cities, and large property managers use to leverage software to remotely engage and collaborate with building staff and owners to drive projects.
buildee is a leading software platform for utility program implementation and connects data and applications for 90% faster energy decisions. buildee is used by utilities and implementers to scale utility energy efficiency programs. buildee is field and back office proven to increase program applications, conversions, team productivity, and project throughput while strengthening customer engagement and relationships.