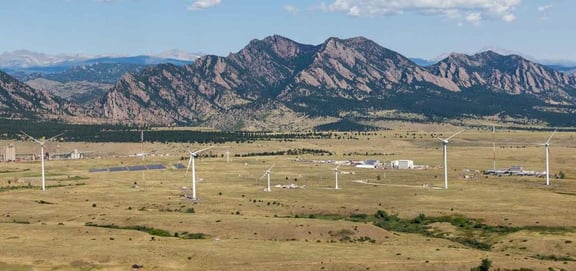 About NREL:
The National Renewable Energy Laboratory (NREL), located in Golden, Colorado, is a nationally recognized leader in buildings research combining renewable energy with innovative technologies to significantly reduce energy consumption in buildings. They are charged with providing leadership within the U.S. Department of Energy (DOE) complex to achieve energy and environmental goals, including at their own facilities.
The Challenge:
The Sustainable NREL team proactively pursues sustainability in all its facility operations including energy efficiency and water conservation. Energy and water audits are regularly performed to identify opportunities to capture savings and improve the performance of their state­-of-­the­-art buildings.
Traditional surveys in the energy auditing process are completed through handwritten notes, marked­-up paper floor plans, cameras and a multitude of measuring devices. Often hundreds of photographs are painstakingly organized and notes are laboriously transcribed into analysis solutions. Ultimately resulting in sacrifices made in accuracy to focus on retrofit opportunities. NREL identified these inefficiencies in their process, and the need to repurpose data gathered in future surveys at the same facilities to avoid the cost of resurveying buildings from scratch.
As planned assessments approached for the National Wind Technology Center (NWTC), the nation's premier wind energy technology research facility, NREL selected simuwatt® Energy Auditor as a solution to standardize their process and store building information for reuse.
Audits at NWTC:
Three buildings, each roughly 20,000 square feet in size, were targeted for ASHRAE Level II energy and water audits. Building use ranged from office space to machine shops to high-­bay wind turbine testing areas.
Three of the auditors on the site visit used simuwatt to divide the survey into internal loads, mechanical systems, and envelope and water. Each building would be walked through simultaneously to efficiently gather data within a short period of time.
Prior to the site visit, Sustainable NREL received a one hour training of the simuwatt Energy Auditor software solution to understand the general concepts and to establish an approach for use at the NWTC site. With drawings and energy models at their fingertips, the team input information that would benefit everyone (e.g. building layout) into simuwatt via laptop browsers. Each auditor then created audits from the baseline focused on their assigned task knowing they would be able to merge audits together at any point.
On the day of the site visit, iPads in-­hand, each auditor opened their audits and got to work. Each auditor utilized the efficiency and flexibility of simuwatt to rapidly record critical site­specific information. The device's integrated camera was leveraged to record equipment configuration, nameplates, existing condition, and assign them to equipment and areas of the building ultimately saving the time necessary to organize these later. Energy and water savings opportunities were paired with these photos to provide a complete picture to the auditor when they were ready to perform analysis. The team was able to perform the site survey of all three buildings in a matter of six hours.
Upon returning to the office from the site visit, additional data was entered using the photos captured and other site documentation. The simuwatt cloud­-based solution facilitated data collection at different points in the audit cycle allowing auditors to reduce time on­-site while maintaining a high level of accuracy. The resulting surveys from each auditor were merged into single building records ready for export to Microsoft Excel workbooks. These workbooks could be mapped into home grown analysis spreadsheets to avoid disrupting current practices. In this case NREL leveraged the breadth and granularity of information that may be collected with simuwatt to input data into an energy model.