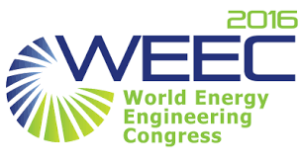 Driving Retrofits and Improving Building Lifecycle Management through Energy Audit Data and Software
Oliver Davis, CEO of simuwatt, will speak on energy management, audits and Big Data at the 2016 World Energy Engineering Conference (WEEC) this week. We look forward to seeing you at the session and meeting with you to discuss how simuwatt can provide you savings.
Abstract:
Gathering energy data in commercial buildings is an old practice that's yielded inconsistent results. Much of the building information gathered post audit sits on the shelf and allows a federal agency, building manager, or consultant to simply 'check the box'. The end result may include simple building improvements, and the low hanging fruit of building efficiency has already been captured. Now, building managers, ESCO's, governments and utilities need to identify, analyze and enact broader energy efficiency measures. Energy audits are now part of a broader set of energy information allowing energy professionals to simply make informed decisions using software and widely accessible data. We developed methodology and software to not only facilitate the data gathering process but also run energy analysis from that data to drive measures and retrofits. These methodologies and software are accessible not just by energy services companies but anyone tied to building management. We will demonstrate how these applications and data move audits from an identification and information gathering function to the catalyst in driving commercial building retrofits.